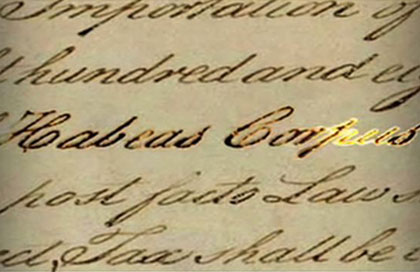 Often, after you are unsuccessful in your state court appeal, people wonder what they can do to further their appeal and keep fighting. After your state court appeals are over, you may have a right to a Federal Habeas Appeal. In a Federal Habeas Appeal you are saying the state courts did not afford you the minimum rights afforded by the federal constitution.
What do I need to be able to file a Federal Habeas Appeal?
The Basics of the Federal Habeas Petition
Timing: The basic timing rule is one year from he date of the end of the state court process. One year isn't really correct though. Its a combined one year from the end of filing your direct appeal minus the time you took to file your PCRA (Post Conviction Relief Act) Petition.  Its a little complicated and disregards all state court timing rules.
Pleadings: Any issue you want to bring in your Federal Habeas must have been plead in your state court direct appeal or PCRA.
One Shot: You can only do this once, and the feds aren't kidding. Its almost impossible to file a second one, though you can always try.
Exhaustion
You must file everything you can in state court. In Pennsylvania, that means that you must file and lose your direct appeal in the Superior Court of Pennsylvania, then lose in the Supreme Court. After losing the direct appeal, you must file a PCRA, lose, file in the Superior Court, lose again, file in the Supreme Court of Pennsylvania and lose again. You must include all issues you plan to argue in the Federal Habeas Petition in the direct appeal or the PCRA. Further, for all other state jurisdictions in the Third Circuit, you must exhaust all of your direct appeal and collateral appeals, regardless of what they are called. If any of the other Third Circuit jurisdictions give you more then a year to file, you must still file within a year or else you will blow your Federal Habeas Appeal timeline. The Third Circuit hears appeals from Pennsylvania, New Jersey, Delaware, and the US Virgin Islands. While the initial pleading is in the federal district court in those states, note the appellate court, the Third Circuit, will eventually hear your appeal.
Custody
You must be in jail to file a Federal Habeas Appeal. If you are completely out of custody or have been deported, you cannot file a Federal Habeas Petition.
Constitutional Claims
In Federal Habeas Petition we are focused on constitutional claims. This means the state court (Pennsylvania, New Jersey, Delaware, or the US Virgin Islands) did not provide you with your fundamental constitutional claims in disposing of your case at trial and on appeal. We couch every issue in terms of a constitutional claim. Fourth Amendment: illegal search and seizure. Fifth Amendment: right to a jury, right be free from self incrimination (Miranda), due process, double jeopardy. Sixth Amendment: effective counsel, confrontation of your accuser, speedy trial, impartial jury, in the state of allegation, bills. Eighth Amendment: cruel and unusual punishment. Fourteenth: more due process.
Frequently Asked Questioned about the Federal Habeas Petition
Frequently we talk about 28 U.S.C. § 2255, and we refer to something called a 2255. There are many different meanings and understandingss for 2255. For purposes of the habeas, however, you can look through 28 U.S.C. §§ 2241–66 for you habeas, but 2254 is the state prisoner habeas and 2255 is the federal prisoner habeas.
This article is talking about federal habeas relief from your state sentence, this article is not talking about an ineffectiveness petition from your federal conviction. While Mr. Zeiger does handle federal ineffectiveness petitions from federal convictions under 2255, those cases are more similar to Pennsylvani PCRA (Post Conviction Relief Act) Petitions and this article should not be applied to an ineffectiveness analysis to avoid confusion. This article is about continuing the fight of a state conviction.
Contact a Pennsylvania Federal Habeas Appeal Attorney Today
Contact Brian J. Zeiger, Esquire for a free consultation for a Federal Habeas Appeal for your friend, family member, or loved one today at 215.546.0340. The Zeiger Firm is located in center city Philadelphia and Mr. Zeiger offers to Skype for anyone who lives too far from Philadelphia but would like a free consultation. Mr. Zeiger is fully licensed in the Third Circuit Court of Appeals and has appeared for oral argument before the Court in the past.